"Entrepreneurship is living a few years of your life like most people won't so that you can live the rest of your life like most people can't"
The startup ecosystem is blooming like a flower seeing the first rays of sunlight. The whole community of a adventurous entrepreneurs is nothing new to the world, Silicon Valley has been the breeding ground for such startups. But the tides are shifting and the winds of change is upon us, ecosystems all across the globe are parenting startups and entrepreneurs. And like bears to a honeypot, venture capitalists are attracted in leaps and bounds adding the much needed thrust to such startups.
Amidst this chaotic era of bold businessmen, India is one of the name that stands out. If you care for some numbers then here they are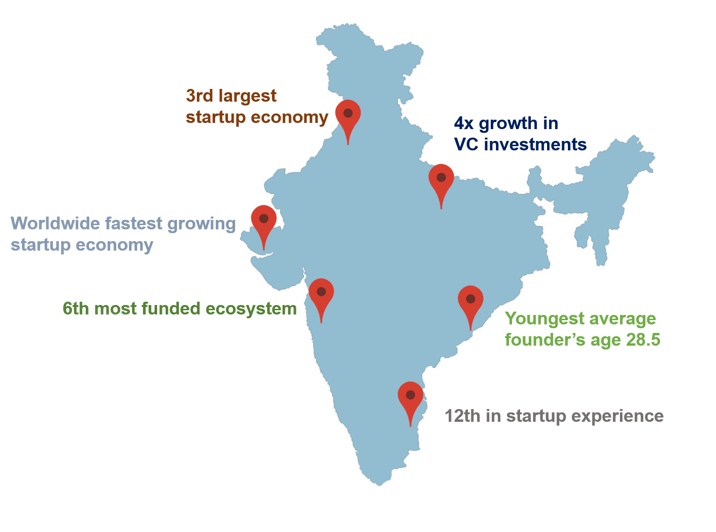 PM Narendra Modi has been instrumental in this and his avant garde approach to making India a entrepreneurial nucleus has been stupendous. Mr Modi is addressing Nasscom's India-US Startup Konnect 2015 in the US, an innovative thrust to celebrate entrepreneurial spirit across the nations.
Speaking of thrusts, there is one more crucial and clinical thrust that startups all over the globe require. A thrust that largely goes unnoticed which are software development companies providing the #ThrustBehindStartups.
A Startup is brought into existence by an idea and wrought by various business plans, hits and trials to finally get a presentable shape. Blood, sweat and tears are put into the concoction to finally bring the product and/or service to life. In all of this process (and even after that), one thing that makes or breaks the product is technology.
Whether a startup deals in high end logistics or sells apples in a fruit store, technology will always prove to be the tethers that bind business with growth.
Just have a look at some of the well known startups who have infused technology with traditional industry.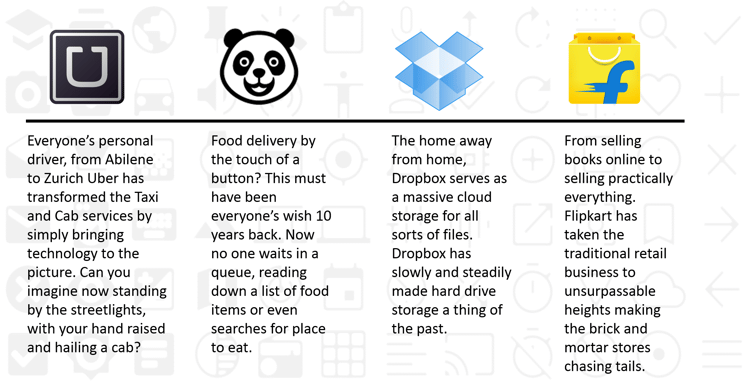 The one thing common in the above four is that their business takes a fatal hit if you remove technologies of web, mobile and cloud from them. Can you assess it now? The magnanimity of technology and its role in sizing up a startup from homuncular to herculean.
With the rise of Startups so have risen numerous software development company who quietly lay in the shadows, revving up their arsenal to add that hint of technological fuel to the fire time after time. These software development companies understand the role technology can play in a startup business.
In this arena of competition one must always remain prudent of the latest technologies that dominate the world. Software development companies are the one stop shop for a startup's need around:
Conceptualization: Many software solutions companies hold a well versed team of Business Analysts with expertise of various industry domains. They help in ideating the concepts of a startup and putting in effect the various technological needs of a startup.
UI/UX: Brand logo, site design and the overall look and feel of the web and mobile portals. The visual painting of your startup. First impressions are always the last impressions. UI/UX defines the way a startup's brand is perceived.
Build: Frontend and Backend technologies are like roots and bark of your startup tree. Strong enough to hold the toughest storm and must provide the exact value proposition that your company demands.
Deployment: The tech stack that forms the bread and butter of your startup. Which technology will help your deploy your startup's value to customers. It would be most dreadful if your pick the wrong technology, a solutions company can be the soft cushion you sleep on.
Support and Maintenance: So you have settled up and deployed your service. But what about keeping your services up and running 24x7? In this era of competitive market, it can be a tiring ordeal to keep your portals updated and flawless. Software solutions companies make sure that technological issues cause you no more sleepless nights.
Operations: The technology stack here keeps your startup running so that there are no deadlocks within the organization. A software solutions company can make sure you don't step on muddy waters when it comes to CRM, Accounting, Help Desk or Project Management technologies.
As an entrepreneur, parenting a startup can bring vicious sleepless nights. One would not want to put a penny of the investor's money in the wrong coffers. It is expected of entrepreneurs to be finical and fastidious, so choosing the right technology at every step can become an onus. Instead why not invest in a software development partner? a personal one stop shop for all your technological needs.
I believe that startups and venture firms take all the limelight. But the magic happens backstage where these software solution companies are inconspicuously pulling the strings that make all the difference and provide the thrust behind startups.
Technology is reaching new pinnacles every moment, startups yearn for similar goals but this can only happen with a boost, a thrust as I have been calling it. The ecosystem is ripe for entrepreneurs, a gush of adventure and risk taking runs in every businessman's blood and now is the time to take that leap of faith… to reach out and touch the skies… to find the thrust behind your startup.
I hope you enjoyed reading this post. I will be writing more on startups and rising technologies along with my team of technological marvels. If you wish to stay up to date, you can subscribe to the Daffodil blog.