Whenever we read or talk about Goal Setting, we think about Targets, Timelines, Pressure, Coordination etc. Goal setting was envisioned to create focus in the mind of the team so that the planning and execution can happen in a structured manner. Goal Setting, if implemented effectively, can provide very crisp and clear path to be followed for the teams. Sadly though, over last few years, Goal Setting has taken shape of ad-hoc planning without long term or short term vision. It has become more of a to-do activity rather than a well thought of activity.
We are a fast growing organization and while growing fast over last couple of years, somewhere, we missed out on engaging in effective Goal Setting and took things as they came. Since it was working well for us we never felt need of changing course. While, we were planning our key focus areas for 2015, we realized that the methods of working used till now have made us good in creating better answers, but how to touch greatness in creating even better answers. We zeroed in on finding an effective and efficient Goal Setting plan that could help us align our team with the Organization's vision for next 5 years.
We evaluated BSC (Balanced Score Card - from goal setting perspective), MBO (Management by Objectives), V2MOM (Vision, Values, Method, Obstacle, Measures - as defined by Salesforce.com) and OKR (Objectives and Key Results).
Balanced Score Card
One of the most widely used tool for Performance Assessment and Goal Setting globally. BSC works around defining the key focus areas around the Financial Goals, Process Improvement, Learning and Customer Relations. Aligning the activities of all the functions on these parameters is possible but sometimes it is being done just to tick the box.
Management By Objectives
MBO has been one of the oldest methods of Goal Setting and performance evaluation. MBO, traditionally, is used in industrial organizations since it is inclined towards giving instructions. Probably that is the reason MBO has off late lost several fans since the Generation Z does not like instructions at all.
V2MOM
V2MOM has been popularized by phenomenal rise of salesforce.com. It is a method that has helped salesforce.com attain the heights and never seen before growth of an organization. V2MOM works around aligning the Vision, Values, Methods, Obstacles and Measures. V2MOM provides a very simple and clear picture of what an Organization is aspiring for and what an individual can do to achieve it.
OKR
OKR have gained popularity and has been an effective tool used in all sized organizations from start-ups to giants like Google, Intel and Yahoo. OKRs revolve around Objectives and Key Results of an Organization, Team, Individual etc. OKRs are born out of MBO with stark difference being OKRs are more collaborative than the latter.
We wanted to adapt to a method that shall:
# Foster alignment among functions;
# Creates transparency;
# Develops focus;
# Promotes innovation;
# Creates independence.
These pre-requisites have been the focus and reason for our growth over the years and it was imperative that we shall be able to finalize on a process that helps us attain the above mentioned requirements. Also, being a young organization, our focus may not stay same for the year, they may change every quarter or may even change every month. Hence it was important that the method adopted shall provide complete flexibility in re-aligning the path in view of changed priorities.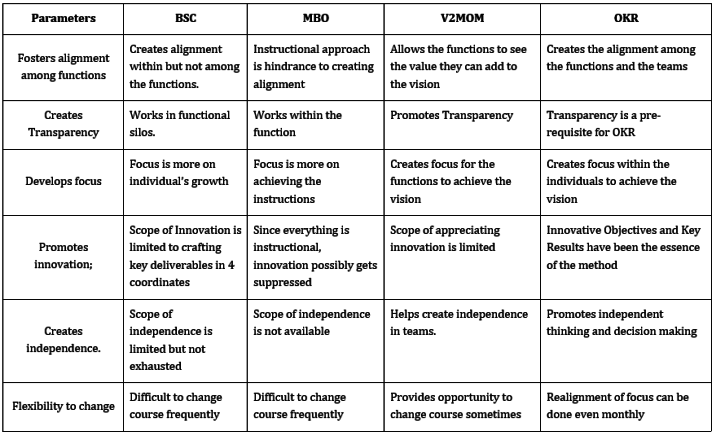 After evaluation & assessment we decided to move ahead with OKRs. We believe the OKRs will be able to provide a renewed aggression and focus in our teams.
More about OKRs in our subsequent blog.