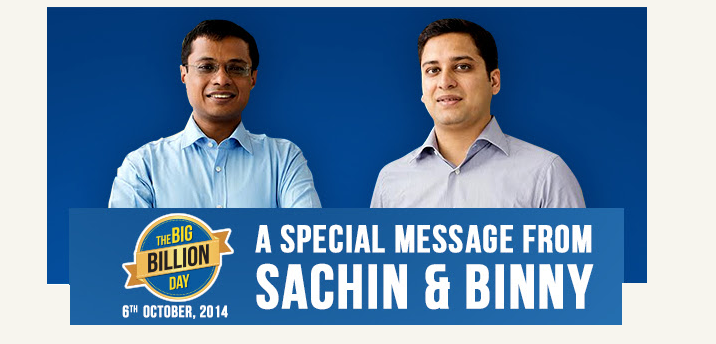 It is that time of the year again when Indians set out to do that one thing they love, and that is festive shopping! But instead of sprawling in the streets and haggling with dozens of shopkeepers, we now prefer leisure over movement. To feed this desire online commerce comes as a boon, shops like Flipkart, Snapdeal, Amazon are every shopper's paradise. Harkening back to what I said earlier, even online commerce celebrates the festive season.
We all remember Flipkart's Big Billion day last year and the good, bad and ugly that came along with it. Insane traffic with sales topping 600 crores within 10 hours, the website went down and Flipkart was simply unable to handle the demand. Tons of customers showcased their frustration and lost loyalty with the brand.
With the Bansals issuing a public apology, Big Billion Day became more of an embarrassing ordeal than a brilliant marketing strategy. One began to wonder whether Big Billion Day will ever be back. Lo and behold! it is October 2015 and Flipkart is back with #BigBillionDays.
All the hoorah sounds nice but are they ready for a second trial?
Let us start by analysing what is different this year in #BigBillionDays.
5 days of madness: First and foremost, Flipkart is playing it safe by expanding the days of the sale by 4 more days. Does it make a difference? Flipkart is bigger now than it was last year. Be it five days of sale or one, day 1 will be pummeled by a battering ram of traffic nonetheless.
So does it really make a difference? 5 days will certainly ebb the flow and give Flipkart the cushion they did not have last year.
eCom giants at war: Everyone is in the boiling pot, Amazon, Snapdeal even Limeroad! Ladies and Gentlemen, this week up ahead will witness online sales beyond the simple imagination of mortal beings. The rest of the crew were mere witnesses of Big Billion Day 2014 and probably had a jocund time making a mockery of Flipkart's fall. But this year everyone is in the battlefield.
App Only strategy: Saving the best for the last, like a sweet dessert. #BigBillionDays is App only, yes you read that right. It is time to tend to that Flipkart App Update notification!
As customers, we wonder why to restrict sales channel to only one portal? Why force us to download the app?
As an eCommerce and Mobile App Development enthusiast, I pretty much know why.
Flipkart is no stranger to mobile app commerce. Back in 2011, they released a very basic version of their app and tested the waters. 4 years down the line, they acquired Myntra and made it an App only platform, the reason behind #BigBillionDays being app only is the same.
Here is what the app only fuss is all about:
No King of the Jungle: This is no dominant player in the Indian mobile app market, as simple as that. Web and mobile platforms are treated differently. The customers are targeted differently and the services given are different, I can call it as 'conquering the native features of the operating platform'. No one has yet dominated the app market and this makes it the jewel of Flipkart's eye. Flipkart plans to go app only and what better way than the #BigBillionDays?
Disloyal Indian Market: There, I said it! Indian customers are known to shift allegiances depending upon the best prices. Loyalty is easily won and even more easily lost. An app reinforces brand loyalty and builds upon customer relationship. Flipkart saw how its customers turned a blind eye at Flipkart's misery and quickly shifted to other platforms.
An App makes sure that shifting loyalty is not as easy as another tab on Chrome. Offers and discounts keep flowing on notifications becoming increasingly hard to resist.
Quicker transactions: Transactions through app are effectively quicker and smoother as compared to web. This is much more easier than it sounds. In a matter of few touches, a customer can be done with checkout, delivery addresses, payment and invoice generation. Flipkart had towering issues last year with empty carts and failed payments taking wrath of the customer to an all time high! An app will ease out the tension magnificently.
Accessibility: One word, Pristine! a mobile app has incomparable accessibility against a web portal. Customers can access inventory with such delightful dexterity. As the #BigBillionDays are hitting mid week, people will be involved in their daily chores. Accessibility and on-the-go shopping is downright necessary. More the accessibility, the easier it will become to make customers exit happily.
Sell through & Repeat Purchase: Consider a happy customer done with his purchase of an iPhone, he/she is joyfully ruminating over the recent purchase when suddenly a notification pops! "Back panel for your iPhone at 80% discount". There you go, that has repeat purchase sprayed all over it. An app is present with the customer 24x7, if that does not count for customer acquisition, then nothing does!
The market is ripe for opportunity and Flipkart seems to be leading the race with eCommerce and mobile app commerce. The mobile platform is new and mobile commerce can be utilized with apps like we utilized the web portal. The app only strategy is a tricky dice throw but seeing how the big names are fearlessly shifting to mobile app development and app only strategies, the picture of the market is crystal clear.
I hope you had a good time reading. We keep a sharp eye on every dominant technology taking over the market and keep our developers' engines revved up for the same. For more such posts around influential technologies that make the world go round, subscribe to the blog and we will keep you posted.